Landslip and flooding after heavy rain hits Scotland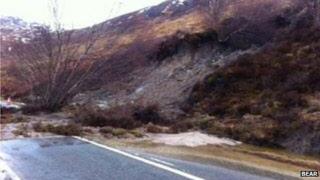 Heavy rain in Scotland has caused a 100 tonne landslide and flooding on roads across parts of the Highlands.
The A87 Invergarry to Kyle of Lochalsh road was shut overnight at Cluanie but traffic is now getting through.
Some rivers reached their highest levels on record and eight people were rescued from a flooded caravan park near Beauly.
More than 30 flood warnings are in place across Scotland.
The A87 landslide came after 158mm of rain fell in the area in the space of 36 hours. This saturated the slope above the road and caused about 100 tonnes of debris to slip down the hillside.
The road is operating under go/stop signs and temporary traffic signals will be in place overnight. It is likely the route will fully reopen on Monday.
Police Scotland said the public should be "vigilant of persistent and heavy rainfall" through the weekend.
The force said heavy flooding has closed the A831 Struy Road from Cannich to Mauld Bridge along with the A831 Drumnadrochit to Cannich stretch.
The A84 had also been closed by flooding between Lochearnhead and Kilmahog but traffic is now getting through as water subsides.
'Record levels'
Richard Brown, from the Scottish Environment Protection Agency, said river and loch levels in the north west had risen to some of the highest levels on record.
He said: "The River Ness will continue to rise today as yesterday's rain and snowmelt water works down the catchments. This may cause flooding to riverside properties in the Inverness area.
"Speyside and Tayside rivers will also remain high with most impacts to agricultural land and low-lying roads."
A swift water rescue team was called to the Lovat Bridge Caravan Park to help the people cut off by water near the River Beauly.
One person was treated for injuries after fire crews evacuated eight residents.
Transport Minister Derek Mackay warned drivers to check conditions before they travel and leave some extra time for their journeys.
The heavy rain forms part of a weather mechanism known as the Foehn Effect, which has also seen temperatures in north east Scotland rise to 15C.
View the flood map by tapping on the image below
Note: the Environment Agency and the Scottish Environment Protection Agency display their flood alert data differently. While the Environment Agency highlights individual rivers only, in Scotland the entire region is coloured to indicate the level of alert.
---