Skye islanders mark WW2 US bomber crash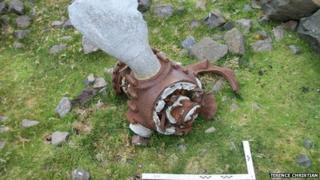 Residents of Staffin on Skye have marked 70 years since a crash that claimed the lives of nine US airmen.
The fliers' B-17G Flying Fortress clipped cliffs of Beinn Edra in bad weather and crashed near Staffin on 3 March 1945.
Fresh from training, the crew were flying the bomber from the US via Iceland to RAF Valley in Wales.
Eight were killed instantly and one was thrown clear and died of his injuries. Their bodies were later repatriated.
On Saturday, islanders gathered at the Columba 1400, a venue run by a social enterprise in Staffin, for a commemorative event to the airmen.
The crew manifest listed the crew members as pilot Second Lt Paul M Overfield Jr, co-pilot Second Lt Leroy E Cagle, navigator Second Lt Charles K Jeanblanc, radio operator Cpl Arthur W Kopp Jr, engineer Cpl Harold D Blue and gunners Cpl John H Vaughan, Cpl Harold A Fahselt, Cpl George S Aldrich and Cpl Carter D Wilkinson.
Wreckage of the aircraft remains at the World War Two crash site today.