New ferry Loch Seaforth withdrawn after pipe splits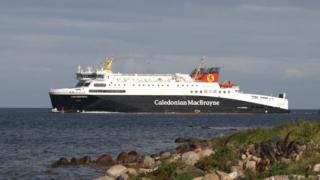 A new ferry built for the Stornoway to Ullapool route was withdrawn from passenger duties on Tuesday after a pipe carrying lubricants split.
Operator Caledonian MacBryane said it was not a "major issue" and repairs had been completed and the MV Loch Seaforth was again available for sailings.
Last week, the ship was withdrawn because of a faulty ventilation fan.
The Stornoway-Ullapool route is among ferry sailings that have been disrupted by severe gales.
The Loch Seaforth has not been fully commissioned to sail on the route, but has been ferrying passengers.
A Calmac spokesman said: "The MV Loch Seaforth was withdrawn from service yesterday morning due to a split in a pipe which carries lubricants to the gearbox.
"It was not a major issue but clearly required attention.
"Repairs have now been completed and she is able to enter service when weather conditions allow."
The spokesman added: "As previously stated, the vessel is not yet fully operational and teething problems like this are to be expected on a ship of this size and complexity."