Highland fling: The migrants escaping pain in Spain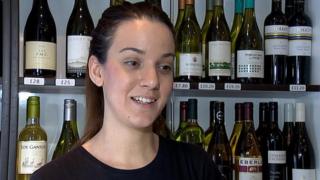 The Highlands have been a big draw for immigrants since EU restrictions were lifted for countries such as Poland, and more recently Bulgaria and Romania.
More jobs, the slower pace of life and a low cost of living are among the main reasons why some new arrivals head for the smaller cities and rural areas.
While much of the political heat has been on the number of immigrants coming in Britain from Eastern Europe, Inverness is currently experiencing another invasion - this time from Spain.
Spain is the land of sun, sangria and an unemployment crisis which has left 50% of the country's young people out of work, many of them highly qualified, and many have come to Scotland to study or find work.
Anna Cuadrado works in a restaurant in Inverness and came to Scotland to study English at college.
But she said other young Spaniards were faced with the "horrible" situation of finishing their studies and then not finding work.
"It is hard to start in another country with a different language and different culture," she said.
---
Welcome to Scotland?
You can also read:
How does immigration affect public services?
Scots 'want job priority for Brits'
Scots 'want immigration cut' - poll
Douglas Fraser's blog: Immigration: more or less?
Immigration: Charting Scotland's new arrivals in graphs
Douglas Fraser on how Scotland has long dealt with immigration
Q&A: Why does immigration matter?
---
Over the past decade Inverness has experienced an influx of migrants from Poland.
New Polish businesses sprung up across the city and a new language could be heard on the streets of the Highland capital.
Now there are new kids on the block.
They include Anna Hidaldo, who said: "I hear Spanish and sometime I think 'where am I? In Scotland or Spain?'"
Like other young Spaniards, she is learning English to improve her career prospects. As a result, the privately run Inverness Language School has seen a dramatic shift in the immigrant demographic.
This time 12 months ago 80% of pupils studying English were from Poland.
But it has all changed this year and Spanish immigrants now make up 40% of each class.
Thinking of home, Anna Hidaldo said: "I miss the city, I miss the Spanish food, I miss all my friends and my family.
"It is a really big change - but I like it."
Morag Maclennan, of the language school in Inverness, said some of the students had made painful journeys from Spain.
She said: "I have been saddened by some of the stories I have heard of family businesses going bust and houses being repossessed.
"A very successful lawyer in the south of Spain moved here - leaving her family and children - to avoid their house being repossessed. She works in a fish factory in Dingwall.
"She is one of many who are prepared to do night shifts and jobs that others might not.
"But it is preferable they are earning and, most importantly for them, they are improving their English which means their employability if they return to Spain will be greater."
One Spaniard in attendance at the English classes in Inverness has his feet firmly planted in Highland soil for the foreseeable future.
Ross County goalkeeper Antonio Reguero and his Spanish girlfriend Debora Lopez even met in Inverness.
Antonio said: "One thing is clear for us - we love Scotland."
He added: "The situation in our own country is not very good just now. One day we will go back, but don't know when."
Dr Philomena de Lima, of the University of the Highlands and Islands, said more research was needed into the benefits of migration.
She said: "I think it is possible by exploring the host communities' concerns and maybe challenging some of the attitudes, that there could be a better understanding of the contributions that migrants make to communities."