A82 between Invermoriston and Drumnadrochit to stay shut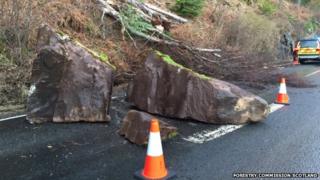 A stretch of the A82 between Invermoriston and Drumnadrochit is to remain shut over the weekend after two large rocks fell on the road.
An old oak tree falling into a boulder field was believed to have caused the rocks to slide down onto the trunk road on Thursday.
The authorities have advised motorists of a 120-mile (193km) diversion.
Forestry Commission Scotland said work would need to be done to make the area safe before police reopen the road.
Two large rocks fell on to the A82 about two miles (3km) north of Invermoriston at about midday on Thursday.
The rocks and other debris have been cleared away but FCS said two other rocks, each weighing six tonnes and on a slope above the road, also need to be broken up and removed.
FCS has been working with Police Scotland and Bear Scotland on making the area safe.
Any update on the traffic measures involved will be posted on Traffic Scotland's website.
Alex McLeod, of FCS, said: "We are looking into what underlying causes may be behind this incident but it illustrates once again the urgency behind our long-term programme.
"Felling the mature trees along the A82 and cleaning and scaling the rock face will significantly reduce the likelihood of these types of incidents in the future.
"We'd like to thank all local residents and road users for their continued patience and understanding."
Iain McDonald, of trunk roads maintenance company Bear Scotland, added: "We continue to work with Forestry Commission Scotland to enable the A82 to be reopened following the rock fall yesterday and although the road is now clear of debris, there are still concerns about the slope.
"Public safety remains the ultimate concern and we are therefore advising that the A82 remains closed as operations progress."