Fort William climbing centre project raises funds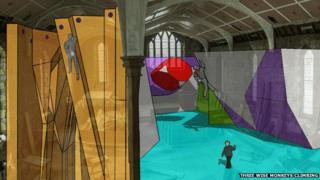 Hundreds of backers have pledged funds to a plan to convert a former church in Fort William into a climbing centre.
Three Wise Monkeys Climbing, the business behind the project, had to raise £40,000 in crowd-funding by Wednesday afternoon.
They generated £43,301 from more than 600 backers.
The proposal is to convert Macintosh Memorial Church near Fort William's High Street in stages.
A bouldering wall would be created first, followed by a cafe, then a roped climbing wall and extra bouldering wall training room.
Three Wise Monkeys Climbing had already raised £30,000 towards the project's costs.