Libor scandal fines aid Scottish Mountain Rescue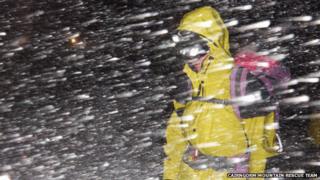 Fines paid by banks involved in the Libor lending rate-fixing scandal have resulted in a £60,000 donation to Scottish Mountain Rescue.
The umbrella organisation for Scotland's 27 teams has received the funding from Police Scotland.
Police secured the money from the UK government and it is in addition to annual funding already given by the force to mountain rescue teams.
Scottish Mountain Rescue said raising funds had become more challenging.
The 27 teams include Hebrides, Braemar, Lomond, Moffat, Tayside and also Scottish Cave Rescue and Search and Rescue Dog Association.
Chairman Simon Steer said: "Our voluntary mountain rescue teams provide a world-class service, free at the point of delivery, that is available any day, at any time and in any weather."
"Our teams are, however, increasingly stretched as the number of incidents we respond to has increased, whilst fund raising becomes ever more challenging.
"Police Scotland's support is therefore much appreciated as we work through another busy year of rescues."
'Vital task'
In October last year, the Treasury announced that the UK government was allocating almost £10m to help support emergency services personnel, sourced from the Libor fines.
It was agreed that a proportion would be made available from Scotland's share of these funds to the Scottish Police Authority.
Assistant Chief Constable Bernard Higgins, of Police Scotland, said: "Mountain rescue teams perform a vital task in helping to keep people safe in Scotland's incredible outdoor environment.
"Through the allocation of Libor funding, we are pleased to be able to provide further financial support.
"It doubles our commitment financially in 2014/2015 to mountain rescue teams, whose members volunteer to go to the assistance of others when they get into difficulties on Scotland hills and mountains."