Gannet numbers rise in north west Scotland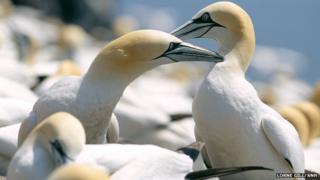 The number of gannets off the north west coast of Scotland has increased rapidly over the last 10 years, a study has suggested.
Aerial images were used to count the number of apparently occupied sites (AOS) - spots on rocks which are frequented by gannets.
A total of 60,290 AOS were counted on St Kilda.
A further 11,230 were seen on Sula Sgeir, where young birds are legally harvested each year.
St Kilda has the world's second largest gannet colony after the Bass Rock. There are more than 150,000 birds on the rock in the Firth of Forth, according to a survey published in February.
The north west survey was carried out using an aircraft in 2013.
The Scottish Natural Heritage-commissioned study found that the number of gannets nesting at Sule Skerry, west of Orkney, increased at a rate of more than 47% per year to 1,870 AOS.
The number on the Flannan Islands grew by 7.5% per year to 5,280.