Talks to continue on Hial airport security staff pay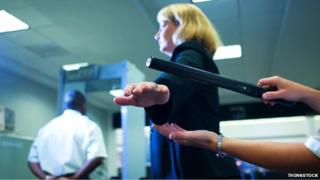 The operator of Scotland's regional airports and union leaders have agreed to continue talks in an effort to resolve a pay dispute.
Prospect union members at AMSL, a firm that is part of Highlands and Islands Airports Limited (Hial), voted last week to strike from midday on 7 April.
The union said the workers were seeking fairer pay and conditions.
Hial has said it has plans in place to operate its 11 sites as normal if the industrial action goes ahead.
Scottish government-owned Hial runs airports in the Hebrides, Orkney and Shetland, Argyll, Inverness, Wick and Dundee.
In a joint statement, Hial and Prospect said: "Hial and Prospect have met today in an attempt to reach a solution over the planned strike action.
"The discussions will continue over the next 24 hours and the parties are hopeful of making a further announcement at that point."
Prospect has sought a basic pay increase of 5%, equalisation with Hial's terms and conditions and parity with higher-paid staff at Sumburgh Airport on Shetland.
Hial said the islands have a higher cost of living, low rates of unemployment "and a buoyant oil-based economy has traditionally attracted higher wages".
The company said collectively the package of measures would amount to an increase of almost 30%.
In an earlier statement, Hial said even a rise of 5% was "wildly unrealistic".