Highlands and Islands Airports strike 'will go ahead'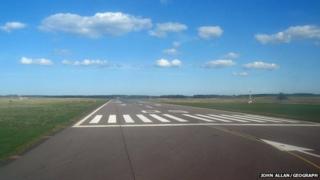 A strike by security staff at Scotland's regional airports will go ahead after talks with Highlands and Islands Airports (Hial) broke down, a union has said.
Prospect said its members would strike for 48 hours from next Tuesday unless there was further progress.
The union and Hial had been holding talks in order to resolve the dispute, which centres on pay and conditions.
Hial has said it will operate 10 sites as normal if the strike goes ahead.
Only Dundee airport was likely to close, Hial said. Scottish government-owned Hial also runs airports in the Hebrides, Orkney and Shetland, Argyll, Inverness and Wick.
The dispute involves staff working in Hial's security company AMSL.
Prospect negotiator Alan Denney said: "Despite attempts to find a settlement to the dispute in AMSL, the inability of the company or the Scottish government to find a way to settle this matter means that industrial action is inevitable."
Pay increase
Prospect has sought a basic pay increase of 5%, equalisation with Hial's terms and conditions and parity with higher-paid staff at Sumburgh Airport on Shetland.
Hial said the islands have a higher cost of living, low rates of unemployment "and a buoyant oil-based economy has traditionally attracted higher wages".
The company said collectively the package of measures would amount to an increase of almost 30%.
In an earlier statement, Hial said even a rise of 5% was "wildly unrealistic".
Following the breakdown of the talks, a spokesman for Hial said: "Following detailed discussions with Prospect, we believe we have made some progress with the union, with both sides showing willingness to compromise. We now require some time, with our Transport Scotland colleagues, to consider the issues we have discussed with Prospect.
"In the meantime, as a sign of goodwill, we have requested that the union postpone industrial action until we are in a position to reply to them in detail, which is entirely within their gift.
"Unfortunately, the union has insisted on an immediate response to their requests and we are simply not able to provide this. "