West highland hillwalker rescued by Kyle lifeboat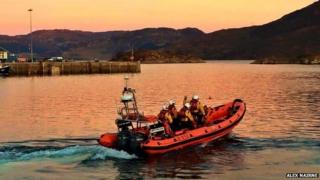 A walker has been rescued by lifeboat after injuring herself in a remote area of the west highlands.
The woman had fallen south of Kylerhea and the Kyle lifeboat was launched at 20:10 on Sunday.
The crew met the Skye Mountain Rescue team, who had helped the injured woman to a slipway on the coast.
The casualty was then taken by lifeboat to Kyle before being transferred by ambulance to hospital. Her injuries are not thought to have been serious.