Manchester flight made 'uncontrollable slide' at Inverness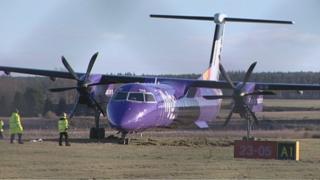 An aircraft from Manchester with 48 passengers and four crew on board made an "uncontrollable slide" after landing at Inverness, according to a report.
No-one was injured on 19 January when the Flybe Bombardier Dash 8 Q400 slid off a runway on to grass.
The plane's commander said the surface was "slippery", according to an Air Accident Investigation Branch report.
Inverness Airport told investigators that de-icing had been done and there were no icy patches.
The incident happened as the plane was exiting the runway.
An airport operations assistant who was preparing to marshal the plane to its stand said it was "travelling unusually fast" as it reached the end of the runway.
No damage
He also reported hearing the tyres "squeal".
The plane's commander said the surface was "very wet with de-icing fluid", that there were some icy patches and markings on the taxiway were slippery.
The AAIB report said the pilot conceded he had been exiting "slightly higher than normal taxi speed" but had been eager to leave the runway.
No damage was done to the aircraft.
Inverness Airport said it had taken all precautions on the day against freezing temperatures.
A spokesman said: "We made it clear to the AAIB that the runway been thoroughly de-iced and that there were no icy patches, as evidenced by the fact that several aircraft had landed earlier without incident.
"The report supports this view and shows that aircraft speed was the determining factor."
Following the incident, passenger Tracey Smith alerted her family near Taunton with the text: "Oops. My plane is in a field."
She later told BBC Radio Scotland: "We were coming in to land and I was looking at the scenery - it is very beautiful up in Inverness.
"I was watching the wheels as we landed. We were thrown forward in our seatbelts and the next thing I know we were veering off to the left into the grass."
Mrs Smith added: "It was quite scary at the time. Nobody said anything and everyone looked at each other. I just feel lucky now."
The airport fire service went to the scene, as is routine, but it was not needed.
The incident involving flight BE202 disrupted air traffic to and from Inverness, including a flight from London City. It was diverted to Aberdeen.