Barra lifeboat crew go to aid of grounded fishing boat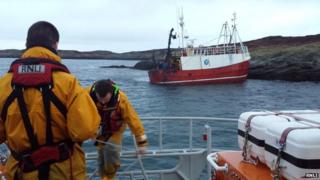 Barra lifeboat went to the aid of a fishing boat crew after their vessel ran aground on rocks.
The Nordic Way got into difficulty shortly after leaving Northbay harbour on Barra.
The lifeboat crew launched at 01:05 on Wednesday and remained with the fishing boat until it was refloated by the tide.
The Nordic Way returned to Northbay for checks for any damage to the boat. No-one was injured.