'Despicable' cancer centre break-in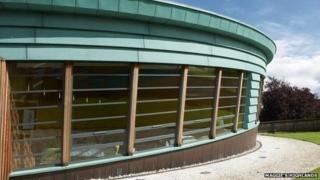 Police are appealing for information after a "despicable" attempt to steal a safe from a cancer support centre in Inverness.
Officers said the Maggie's Highlands Centre, near Raigmore Hospital, was broken into at about 00:10 on Sunday.
A safe was stolen but it was recovered after the male suspect was disturbed by two security officers.
The suspect was seen leaving the area on a black and grey mountain bike towards Culcabock Road.
Insp Derek McGillivray said: "Maggie's Highlands is a charity in Inverness that provides support to people with cancer and their family and friends.
"This attempt to steal funds from the centre is a despicable crime and I would urge anyone that has any information about the incident, or may have seen someone acting suspiciously in the area at the time, to contact us."