Otter cub found orphaned in Stornoway taken into care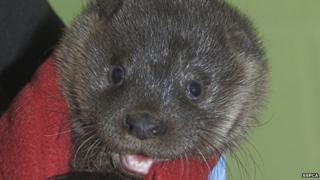 An otter cub found orphaned in Stornoway on Lewis is being cared for by the Scottish SPCA.
The 10-week-old male was discovered alone and distressed by a member of the public.
The SSPCA said the cub, which has been named Lewis, was crying out for its mother.
The animal welfare charity has taken the otter to its National Wildlife Rescue Centre in Clackmannanshire where he will remain for about a year.
Centre manager Colin Seddon said: "Lewis is being cared for along with two female cubs called Dipper and Dalis who arrived in our care a short while ago as they are around the same age.
"They're being kept together which is ideal as otter cubs depend on interaction with their own kind.
"Lewis, Dipper and Dalis are getting on very well and will stay together and be released in around 12 months' time once they are all mature enough to fend for themselves in the wild."