Wading birds' tastes in Hebridean machair revealed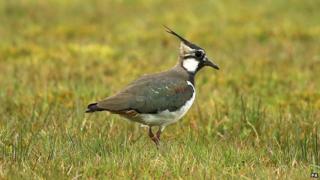 Wading birds' preferences for the grassland types that make up Hebridean coastal meadows have been revealed in a new report.
The Scottish Natural Heritage-commissioned study suggests different species favour different areas of the meadows known as machair.
Lapwings, oystercatchers and ringed plovers tended to be concentrated in the more fertile grassland.
Oystercatchers avoided tall vegetation, while redshanks favoured it.
Ringed plovers and oystercatchers were also found to prefer areas of farming activity, but redshanks and snipes tended to avoid those areas.
The research looked at the behaviour of the birds on machair on the Uists.
Last month, machair was indentified by Plantlife Scotland as one of 47 Important Plant Areas (IPAs).
Traditional farming
The conservation organisation said the meadows were among the richest habitats of its IPAs.
In recent years other bodies, such as RSPB Scotland, have provided crofters with grants to encourage them to continue using traditional farming methods on machair.
The RSPB asked crofters to harvest crops later in the year to protect nesting birds and use seaweed as fertiliser.
The building of stooks - the bundling of hay and straw in conical stacks - was also to be promoted.
Stooks offer a source of food for farmland birds such as corn bunting.