Spean Bridge hotel's commando memorabilia saved from fire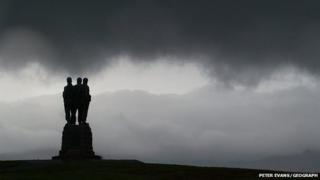 A Lochaber hotel's collection of military memorabilia has been saved from a fire.
Firefighters were called to the Spean Bridge Hotel in Spean Bridge at 15:30 on Tuesday.
The blaze damaged the roof above a restaurant and caused smoke damage to several bedrooms.
Fire crews from Fort William, Fort Augustus, Kinlochleven and Perth prevented flames from reaching the hotel's Commando Bar and its relics.
The area around Spean Bridge was used for training commandos from Britain and the US as well as France, the Netherlands, Norway, Czechoslovakia, Poland and Belgium during World War Two.
The role Lochaber played in the allied campaign against the Axis powers is remembered in a memorial near Spean Bridge.
'Totally unaffected'
Pat McElhinney, of the Scottish Fire and Rescue Service, said: "I would like to praise the crews for their quick actions which prevented the fire from spreading to the area of the bar where much of the establishment's treasured commando memorabilia was located.
"Firefighters applied water very quickly and their hard work has saved a vital community function area as well as a key business in the local area."
Hotel manager Beth Sessions added: "Thankfully the Commando Bar is totally unaffected by fire and smoke and I'd like to thank Scottish Fire and Rescue Service for the way they quickly dealt with this fire, which will allow us to continue to do business.
"We are so pleased none of the commando memorabilia has been affected in any way as a result of the fire."