New historic finds made in Inverness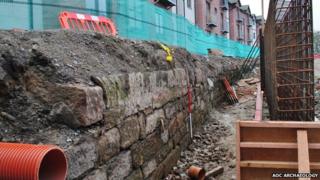 New historic finds have been made in Inverness during work to better protect the city from flooding.
A breakwater and a 19th Century quay wall have been recorded at Shore Street on the River Ness.
AOC Archaeology, which has documented the finds, said they helped to give a better understanding of how Inverness has developed since medieval times.
The breakwater and wall have been recorded as part of work on the new River Ness Flood Alleviation Scheme.
AOC's Inverness office has also been involved in excavating and examining skeletal remains found in a village on the shores of Loch Ness.
A wrist guard, for use with a bow and arrow, and shards of pottery were also discovered with the remains at Drumnadrochit.
The artefacts were found in a burial cist uncovered during work to build a new health centre.
Archaeologists said the remains and items were from the Early Bronze Age.