Irish TV drama wins at Celtic media Festival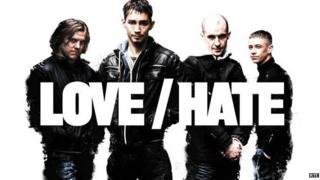 Irish TV series Love/Hate has trumped BBC shows Sherlock, Bannan and Shetland to be named Best Drama at the Celtic Media Festival in Inverness.
The RTE drama explores Dublin's "multi-layered society" on the city's "bleak estates" and middle classes.
The final awards night of the festival also saw BBC Radio nan Gaidheal named Radio Station of the Year.
It was also announced that Dungarvan in County Waterford will host next year's festival.
For more than 30 years the Celtic Media Festival has been promoting the languages and cultures of Celtic nations and regions, including Scotland, Wales and Ireland.
Other award winners at this year's three-day event, included an app featuring Billy Connolly made by Northern Ireland's Flickerpix and Touch Press.
BBC Scotland's two-part history series The Quest for Bannockburn took home the Torc Award for Excellence for a Factual Series, while BBC Radio Scotland programme Another Country presented by Ricky Ross, won the award for Radio Music Programme category.
The full list of prize-winners can be found at the festival's website.