Further snow showers forecast for Scotland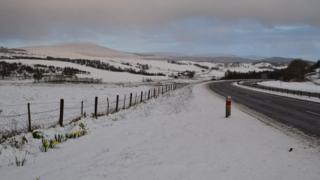 Further snow showers and low temperatures have been forecast for parts of Scotland following wintry conditions in the Highlands on Sunday.
Snow showers have been forecast for parts of Scotland later on Monday.
Aviemore is also expected to get snow falls early on Wednesday morning before it later turns to rain.
Travel in and around Inverness, Daviot and Ullapool and on stretches of the A9 in the Highlands were affected by heavy hail and snow falls on Sunday.
Police Scotland has tweeted a warning to drivers to take extra care during the wintry conditions.
The Met Office said the cold temperatures and snow were due to an Arctic Maritime Mass.