Drivers cut from lorries in Balnain and Halkirk crashes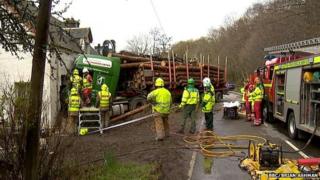 Firefighters have used cutting gear to free two lorry drivers following two separate crashes in the Highlands.
A 37-year-old man was injured in the first incident which saw his lorry crash into a house on the A831 at Balnain near Drumnadrochit.
He was taken to Raigmore Hospital in Inverness for treatment.
In the second incident, the driver had to be freed from the cab of his lorry after it overturned at Scotscalder near Halkirk in Caithness.
There were no details available on the his injuries. The accident happened at about 13:35.
The driver in the Balnain incident was thought to have been trying to avoid another lorry on the road.
Six units from the Scottish Fire and Rescue Service (SFRS) were sent to the scene near Glenurquhart Hotel.
Police said the road at Balnain was closed.
The fire service said the one-and-a-half storey, semi-detached house was unoccupied.
Fire crews had to prop up a damaged part of the house during the operation to free the driver.
A specialist trauma team based in Glasgow was flown to the scene to assist with the rescue of the trapped driver.
SFRS said the operation to free the man was done in two phases.
A spokesman said: "Crews had to ensure the structural integrity of the property as well as release the driver of the HGV who was trapped within his cab.
"Appliances from Drumnadrochit, Cannich, two from Inverness and the heavy rescue unit from Inverness attended."