Caledonian Canal to fully reopened after flood damage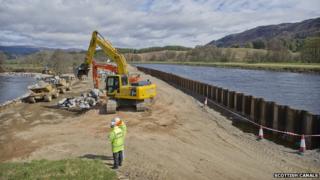 The Caledonian Canal has reopened fully to sea-to-sea traffic following repairs to damage caused by flooding early last month.
The waterway was closed to traffic after heavy rain combined with melting snow washed away a weir near Fort Augustus.
Repairs have been done to the damaged area at Cullochy.
Scottish Canals had earlier made the canal available to small vessels.