Frustration over South Uist-Benbecula causeway solution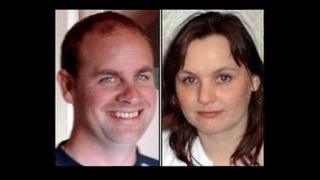 Islanders have voiced frustration about the lack of action being taken to improve the causeway between South Uist and Benbecula.
At a public meeting on Wednesday they were told by council officials that they may have to campaign for improvements themselves.
Studies suggest that the causeway may have contributed to a storm surge in 2005 which claimed five lives.
The research suggests the causeway interferes with the sea's natural flow.
Comhairle nan Eilan Siar estimates it would cost about £20m to resolve the issue by cutting a 250m opening in the causeway.
But at the public meeting the local authority's director technical services Iain MacKinnon warned that it would be an "uphill struggle" to secure the necessary funding and said local people would have to lead the campaign.
He highlighted the comhairle's coastal defence plans on the small nearby island of Gualan, but conceded that this would not be enough to prevent flooding in the event of a major storm like that of 2005.
Archie and Murdina MacPherson, their children Andrew and Hannah and grandfather Calum Campbell died in 2005's winter storm.