Wintry conditions on Ben Nevis and Cairngorms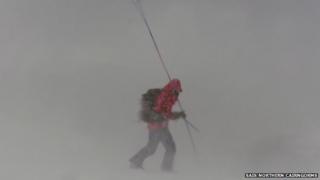 Blizzards and freezing temperatures returned to some of Scotland's highest mountains at the weekend.
Ben Nevis and peaks in the Northern Cairngorms were among the areas which experienced the wintry conditions.
Sportscotland Avalanche Information Service (SAIS) forecasters said the weather was more like what they would expect to see in January than May.
One forecaster joked of Sunday's conditions: "It was one of the most uncomfortable days of the winter."
Wintry conditions have lingered in other parts of the Highlands.
Last week, a snowsports centre was described as having the "best powder snow on the planet".
The conditions at Glencoe Mountain Resort, which are highly sought after by skiers and snowboarders, followed heavy snowfalls over the last few days.
Snowaction magazine rated the centre as having the best powder snow of any of the world's ski resorts at that time.
The last official day of skiing at Glencoe for the 2014-15 season was on Monday.