Isle of Harris to St Kilda swim attempt postponed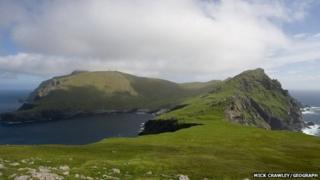 An attempt by nine swimmers to swim from the Isle of Harris to St Kilda has been postponed because of rough sea conditions.
The relay team had hoped to set out this week and take two to three days to complete the venture.
They had tried to complete the swim last year but had to abandon that attempt about 24 miles (38km) into the 60-mile (96km) crossing.
John Dyer, one of the swimmers, said they would try again in July.
He said that while the swimmers were able to cope with difficult conditions, they posed a safety risk to kayakers supporting them.
Mr Dyer told BBC Radio Scotland: "Big swells make it difficult for the kayakers, who also work in a relay, to climb the ladder from their kayak into the main support boat."
The main risk to the swimmers is stinging jellyfish.
Mr Dyer added: "You are very unlucky if you get a jellyfish in the face."