Raigmore Hospital boss in plea to visitors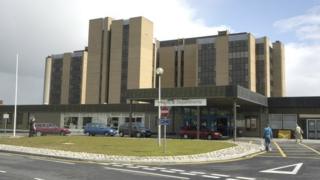 A boss at Raigmore Hospital in Inverness has asked people planning on visiting patients to stay away if they have recently had sickness and diarrhoea.
Ward 7C at the hospital remains closed after a number of patients fell ill to norovirus.
NHS Highland has been trying to control outbreaks for the last three weeks.
Dr Ken MacDonald said the virus was being brought into the hospital from the local community.
He told BBC Alba that visits were important to patients' wellbeing, but that visitors should hold off going to hospital if they have had the sickness bug.
Dr MacDonald said: "We would ask that anyone coming to the hospital to visit stay away if they have had any symptoms of sickness and diarrhoea within the last 48 hours, or been in contact with anyone else who has had these symptoms."
At the height of the outbreaks, four wards at Raigmore were temporarily closed to new admissions.
The hospital was also temporarily closed to all visitors as part of NHS Highland's effort to control the virus.