Blaze destroys historic building in Dingwall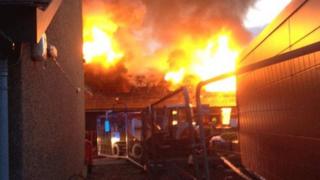 A historic building in Dingwall has been destroyed in what police have described as an "unexplained fire".
Emergency services were called to the blaze in the single-storey building near St Clement's School and Community Centre at 21:30 on Saturday.
Local residents said flames from the fire could be seen rising high into the sky above the town as firefighters fought to control the blaze.
No-one was injured in the incident on Tulloch Street.
Police have appealed for witnesses.