Six Scots selected for World Surfing Games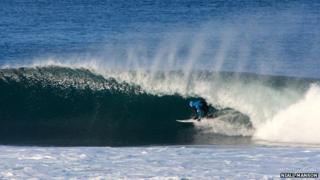 Surfers from the Highlands, Moray and Aberdeenshire have been selected to represent Scotland at the World Surfing Games in Nicaragua.
Thurso's Scotty Main, Mark Boyd and Shoana Blackadder are among the six.
The others are Ali Matheson, from Carrbridge, Allyn Harper, from Sandend and Megan McKay, from Macduff.
The Scottish Surfing Federation has been supporting a crowdfunding appeal to raise the money the six need to attend the games on 31 May to 7 June.
Scotland finished 16th out of 95 countries at last year's games in Peru.
Mr Boyd, 28, said: "The majority of those who are part of the team qualified through the Scottish National Surfing Championships held over Easter.
"Personally, this will be the second time I've been selected to be part of the Scottish team for the ISA World Surfing Games.
"It's a great honour and opportunity to represent my country on the world stage and to further push the standard of Scottish surfing by competing against some of the best surfers in the world."