Reports of rare hen harriers in Scotland sought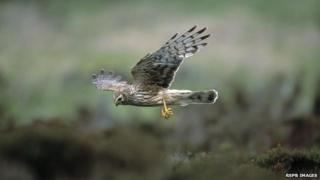 Sightings of one of Britain's rarest birds of prey have been sought by a Scottish conservation organisation.
Hen harriers are large raptors found mainly in moorland areas of Scotland.
Male birds perform acrobatic courtship displays which have earned the species the nickname "sky dancer".
Partnership for Action Against Wildlife Crime Scotland (Paw Scotland) has asked for sightings to be emailed or phoned in to them. Scotland has an estimated 500 hen harrier pairs.
Illegal persecution, habitat loss and also predation by foxes and crows have been blamed for a fall in numbers.
Prof Des Thompson, chairman of Paw Scotland's Heads Up for Harriers Group, said: "Several national surveys of hen harriers have found they are faring well in some areas, but declining or absent all together in others.
"In some places, there are no harriers at all because of persecution and a range of other factors."
He added: "Although we receive a lot of records from members of bird groups, we need to add to these to get a complete picture of how hen harriers are faring in Scotland."