Culbokie speed watch scheme 'slowing drivers down'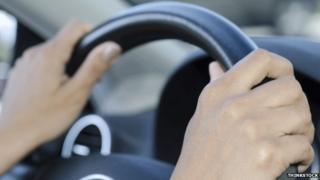 Fewer drivers have broken a 30mph speed limit through a village since its residents started monitoring motorists.
Using a lamppost-mounted speed monitor, volunteers in Culbokie on the Black Isle note the registrations of vehicles breaking the limit.
Letters from the police are sent to the motorists warning them of their driving behaviour.
Since the 12-week trial started, 1% instead of 10% of drivers have broken the speed limit.
The residents-run scheme is the first of its kind in Scotland, according to Police Scotland. The trial ends in June.
'Driving behaviour'
Ferintosh Community Council chairman Bruce Morrison said: "The volunteers are doing a great job, committing themselves to two hours a week of observations over each of the past eight weeks.
"As the weeks go by, the friendlier the drivers become with waves, smiles and very supportive comments.
"Less than 1% of vehicles are triggering the sign compared with the norm of well over 10%.
"Only in June though will we find out whether our slower driving behaviour has become normal behaviour. For the peace of minds of all residents, let's hope so."
Insp Nicola MacKenzie, of Police Scotland, added: "The Culbokie speedwatch initiative between Ferintosh Community Council and Police Scotland has hopefully been successful in encouraging drivers to change their behaviour when in and around the village.
"It is an excellent example of a community recognising an issue and working together with police to help keep everyone safe."