BBC Scotland TV reporter Craig Anderson cast in new play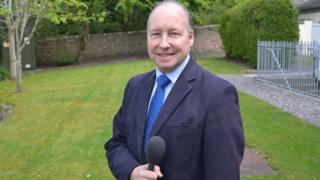 BBC Scotland Highland correspondent Craig Anderson features in a new touring play about a community hit by a flooding crisis.
The award-winning TV reporter has joined the cast of Rapid Departure.
The play is the latest work by the team behind theatrical comedies Who Bares Wins and The Accidental Death of an Accordionist.
Following its opening night on Eigg on Saturday, the play will be taken on a tour of 16 venues.
They include Ullapool, Inverness, Kemnay and Pitlochry.
The play, by Moray-based Right Lines Productions, marks Mr Anderson's first foray into professional theatre.
He said: "I've known the writers for some years after filming a couple of features about their plays so I was delighted to be asked to play a character in one.
"I was quite keen on amateur dramatics at school but I haven't stepped on a theatre stage since."
Global warming
Mr Anderson added: "Though my appearance in Rapid Departure is more of a virtual one, all I'll say is that it's not too far away from what I do in my day job."
The play takes place in a village hall designated as an emergency rest centre after freak flooding cuts off the local community and the interactive nature of the production brings the audience into the centre of the action.
Writer Euan Martin said: "Rapid Departure is very definitely a comedy, but the issues we explore in the play - global warming, climate change, renewable energy, rewilding and the impact of flooding - are important matters for everyone."
The 90-minute production has backing from Creative Scotland and, because of the subject matter, won sponsorship from the Scottish Environment Protection Agency.