Cromarty car ferry withdrawn from route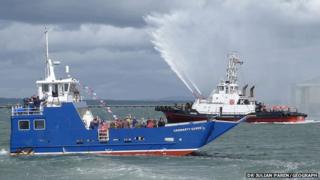 A small car ferry officially launched by actress Penelope Keith has been withdrawn from the route it served in the Highlands.
The Cromarty Queen made summer crossings of the Cromarty Firth between Cromarty and Nigg.
Its operator, the Cromarty Ferry Company, has withdrawn the vessel because of problems finding suitable berthing facilities.
Highland Council, which subsidises the route, hopes to find a new operator.
Black Isle councillor David Alston said he believed the route was commercially viable and hoped a ferry would be on the route again next year.
Keith, who appeared in TV series To The Manor Born and The Good Life, launched the Cromarty Queen in 2011. She has a home in the area.
The ferry replaced a smaller vessel that last sailed in 2009 and was able to carry four cars rather than just two.
The boat was especially built for the short crossing from Cromarty to Nigg.
The vessel is one of the smallest of its kind in Scotland and retains the traditional style of a landing craft with a vehicle turntable.
In 2008 the previous Cromarty car ferry was the venue for what organisers claimed was the world's smallest drive-in cinema.
The 1950s film, The Maggie, was shown on the ferry and tickets were offered to just four passengers.