Most whales in stranding off Skye saved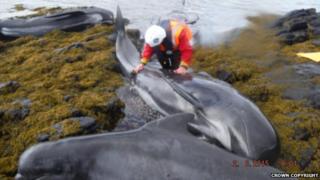 A group of long-finned pilot whales that became stranded on rocks off Skye were able to return to open water with help from rescuers on Tuesday evening.
Twenty-one animals had first beached at Staffin on Monday afternoon.
Most of the whales were saved but 10 then went on to strand themselves on rocks on nearby Staffin Island.
Eight whales died including a female and her new born calf. The stranding is thought to have been triggered by the female having problems while calving.