Highland Council working towards resettling five Syrian families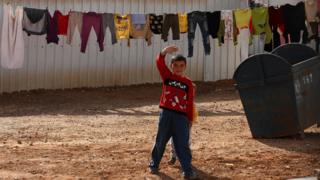 Highland Council has said it was continuing to work towards housing five families of Syrian refugees.
The local authority hopes to offer homes to 25 to 30 families fleeing conflict in Syria.
It said it was working with Scottish councils body Cosla on plans to resettle five families in the Inner Moray Firth area.
Other families would be offered housing when properties become available, the council added.
The leader of Highland Council, Margaret Davidson, said: "I am very pleased with the progress and preparations that are being made among the partners in the refugee working group.
"Preparations are well in hand and the council is closer to notifying the Home Office that they can welcome Syrian refugees to the Highlands."
NHS Highland and Police Scotland have also been working with Highland Council on the resettlement effort.