Dogs Trust says it chipped record number of dogs in Stornoway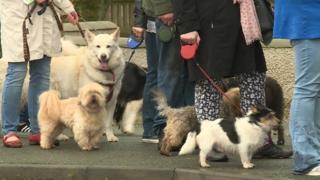 Pet welfare charity the Dogs Trust said it broke its records microchipping hundreds of dogs in a single day.
It said 376 animals were fitted with chips in Stornoway, in Lewis, on Monday.
Dog owners from across the Western Isles, including Harris, queued with their pets to take up the offer of free chipping.
Compulsory microchipping for all dogs in Scotland came into force on Wednesday.
One of the reasons why so many people gathered in Stornoway was that flights that would have taken the Dog Trust volunteers to other parts of the islands were cancelled.
The new law, which has also been introduced in England and Wales, has been designed to tackle problems with lost and abandoned dogs.