Kanye West visit to Skye inspires #HipHopCops tweet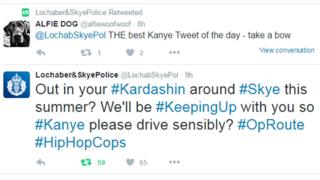 A visit to Skye by US hop hop artist Kanye West has inspired a tongue-in-cheek road safety warning from Police Scotland.
The music artist was in the island to shoot a new video, according to newspaper and media reports.
Officers using Police Scotland's Lochaber and Skye Twitter account tweeted a pun-filled message shortly after the media stories appeared.
The officers signed off with #HipHopCops.
The tweet made reference to West's wife Kim Kardashian and her reality TV show Keeping up with the Kardashians.
It read: "Out in your #Kardashin around #Skye this summer? We'll be #KeepingUp with you so #Kanye please drive sensibly? #OpRoute #HipHopCops".
West's visit to Skye was the cause of a Twitter Moment, a feature of the social media website that gathers stories and tweets about major events in one place on the site.