Jet lands safely in second emergency at Stornoway Airport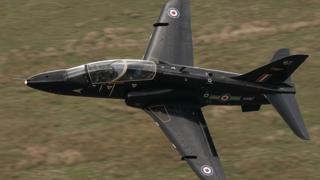 A full scale emergency involving a military aircraft was declared at an island's airport just days after a similar incident at the same site.
The Hawk fast jet at the centre of the latest emergency at Stornoway in Lewis landed safely.
Stornoway RNLI was alerted to the incident just after 09:00. Its lifeboat was launched before the crew was stood down at 09:21.
On Saturday, a military aircraft landed at Stornoway after it struck a bird.
The three crew landed the aircraft safely.
Stornoway lifeboat crew along with coastguard, fire and rescue, police and ambulance service crews were deployed as a precaution to that incident.
Joint Warrior
Hawk jets are flown by the RAF, but also feature in the air forces of other countries.
The incidents at Stornoway have come during one of Europe's largest Nato exercises, Exercise Joint Warrior, which is being held in Scotland.
Much of the training in the air and sea takes place off the Western Isles.
The exercise runs until 23 April and involves submarines, surface ships, aircraft and thousands of armed forces personnel.