Atlantis Resources raises funds for Scottish projects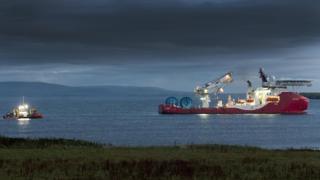 Tidal power firm Atlantis Resources has raised £6.5m through a share placing to fund project development work.
It said the cash would be used in part to fund development of its flagship MeyGen tidal energy scheme in the Inner Sound of the Pentland Firth.
The scheme is expected to produce power in the second half of this year.
Atlantis also plans to use the proceeds to help it achieve "financial close" for its Sound of Islay project on the west coast of Scotland.
That project, which has a grid agreement and consents in place, has secured about £16m of grant funding from a European Union programme.
MeyGen involves four tidal turbines in an area of the sea that separates the Scottish mainland and Orkney. Cables to carry electricity generated by the turbines to shore have been laid.
'Most developed'
Atlantis hopes to later expand the project to up to 269 turbines.
Last month, the company dropped its plan to develop a tidal project near Kylerhea in Skye.
Atlantis said it had returned an agreement for lease (AFL) for an area of seabed to the Crown Estate, which manages areas of seabed around the UK, following a review of its portfolio.
It has also handed back an AFL for a site at Anglesey Skerries in Wales.
Atlantis said it wanted to focus on its "most developed" sites, including MeyGen.