Police called to small flock of sheep in Inverness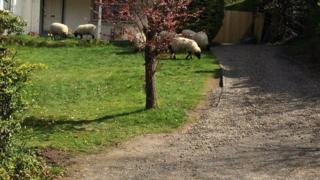 Police have been called to deal with a small flock of sheep loose near Inverness city centre.
The animals were happily munching in the front garden of a house in Drummond Road close to its junction with the busier Culduthel Road.
Police received calls from members of the public who were both concerned for the sheep and seeking to reunite the animals with their owner.
Officers helped to have the sheep rounded up and returned to their home.
It is understood the animals are kept locally.