Warning of snow and ice for Scotland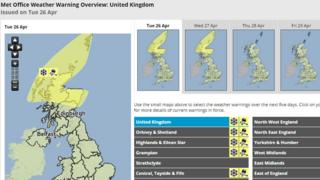 The Met Office has issued a yellow "be aware" warning for snow, ice and freezing temperatures for large parts of Scotland.
It covers from 20:00 on Tuesday until 08:00 on Wednesday and follows a similar warning issued for Monday.
Forecasters said snow could fall to 10cm in upland parts of the Grampians and there could be localised snowfalls at lower levels to up 3cm.
The Met Office said it was unusual for such cold conditions so late in spring.
Its latest weather warning includes Shetland, Orkney, the Western Isles, the Highlands, Aberdeenshire and Tayside.
The spell of cold weather has brought fresh heavy snowfalls to the Cairngorms.
The CairnGorm Mountain and Glencoe Mountain ski resorts have said that they have enough of the white stuff to offer snowsports until at least the start of May.
Persistent wintry conditions have also meant that the Sportscotland Avalanche Information Service will continue to provide hazard reports for the Northern Cairngorms and Lochaber until at least the end of this month.
On this date last year, snow fell to several centimetres in parts of the Highlands, including Inverness.