Caithness and Sutherland farmers call for control of ravens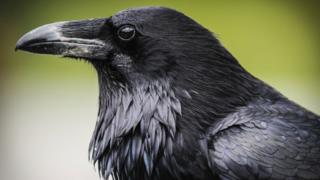 Farmers in Caithness and Sutherland have called for greater controls of ravens which have been feeding on young livestock.
The birds, the largest member of the crow family, have injured and killed young lambs.
Ravens can be shot under licence, but farmers say the rules of the permits are too restrictive.
Scottish Natural Heritage, which issues the licences, has asked farmers to contribute to a review of the permits.
A consultation will be held later this year to guide what restrictions on the control of ravens should be put in place in 2017, said SNH.
Last year, 120 licences were issued and about 560 ravens were shot. There are estimated to be about 6,000 breeding pairs of the crows in Scotland.
SNH said farmers and crofters with concerns about the birds should get in touch.
A petition raised by farmers calling for greater controls of the crows has gathered about 2,200 names so far. However, a rival petition urging that the birds continue to be protected has more than 27,633 names.
The farmers, who are not demanding an eradication, have told BBC Alba of ravens flocking in numbers of up to 30 birds and of them feeding on lambs' eyes and tongues.