Firefighters take control of 'extensive' wildfire in Sutherland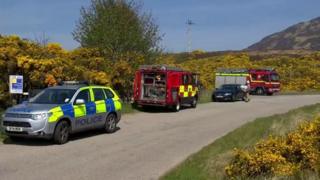 Firefighters have brought under control what was described as an "extensive" wildfire near Tongue in Sutherland.
Flames swept through about seven square kilometres of hillside around Ben Blandy on Tuesday night.
The fire was reduced to about two square kilometres by Wednesday morning following efforts of more than 20 firefighters.
The Scottish Fire and Rescue Service (SFRS) said crews were now dampening down hotspots.
'Sweltering conditions'
The fire service said the incident had not posed a threat to property or livestock.
On Tuesday, firefighters had to work in what SFRS described as "sweltering conditions".
The weather at the time was dry and hot, with temperatures still at about 20C in the west and north west Highlands late into Tuesday evening.