Woman dies after crash on A87 near Broadford on Skye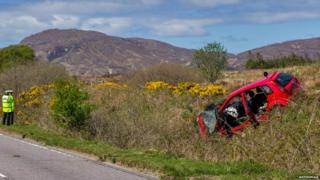 A woman has died after a one-vehicle crash on the A87 near Broadford on Skye.
She was cut free from the wreckage by firefighters and was airlifted to hospital. The accident happened at about 10:10.
The emergency services have also been dealing with a collision involving a lorry and a car on the A96 near Inverness.
There were no details at this stage on any casualties.
The lorry ended up in a field during the accident near the Barn Church Road junction.
The incidents follow two separate accidents in the Highlands on Thursday.
A male biker was airlifted to hospital after he was involved in a collision with another vehicle on the A835 north of Ullapool in Wester Ross.
A man was injured in Lochaber after his lorry overturned on A82 near the Corran Ferry terminal.