Beef jerky firm takes over Grantown on Spey smokehouse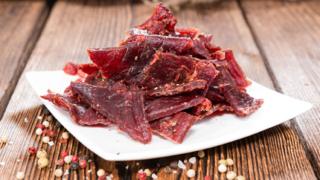 Europe's largest producer of beef jerky has taken over the tenancy of a former fish smokehouse in Grantown on Spey.
The Meatsnacks Group has said it will make a new salmon jerky product at the facility owned by Highlands and Islands Enterprise (HIE).
Young's Seafood had leased Spey Valley Smokehouse before shutting its operations there, with the loss of 24 jobs, earlier this year.
HIE said the new business would create up to 20 jobs.
Meatsnacks was formed after a merger of Forres-based Jerky Group and Cruga in Milton Keynes. It employs about 110 people across its sites in Scotland and England.
The company was one of several firms interested in leasing the Grantown factory after it was vacated by Young's in March.
'Great opportunity'
Meatsnacks said the facility would produce Wild West Deli Salmon Jerky, which will be launched in supermarkets in August.
Managing director James Newitt said: "We're really excited to be adding salmon jerky to our portfolio.
"We have been looking to produce the product since 2012 when we perfected the recipe and what better place than Grantown on Spey, the home of salmon fishing in the Scottish Highlands.
"The acquisition offers us a great opportunity to continue to diversify our offering and tap into a wider market."
David Oxley, of HIE, said: "The facility has been a valuable economic asset for Grantown and an important place for local employment.
"We are very pleased to see it becoming an active production facility once more, and look forward to continuing to work with Meatsnacks as their business develops."
In January, Young's said it suspended work at the Highlands site while it sought a new contract that would allow it to resume operations and rehire staff.
About 24 people were employed at the Spey Valley Smokehouse.
Young's had sought to buy the site which it leases from Highlands and Islands Enterprise (HIE).
The bid to purchase the plant was declined and Young's said HIE's offer of a new lease was too short.