New site mooted for Inverness see-saw arts installation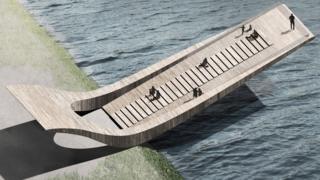 A new location for The Gathering Place, a see-saw-like arts installation that has its critics but also supporters, has been unveiled.
The structure was proposed for Friars Shott on the River Ness Inverness, but Highland Council said the preferred site was now further up river.
If it goes ahead, the installation could be located outside Eden Court Theatre.
It has been proposed that The Gathering Place gently tilt up and down.
A site at Eden Court has previously been suggested by councillors and the public.
The Gathering Place is an artistic collaboration between arts and design company Sans façon and the creative studio KHBT.
It would form part of the £758,350 River Ness Art Project, which Creative Scotland would contribute £305,600 towards.
Other contributions of £280,750 would come from the City of Inverness Common Good Fund, £106,000 from Highland Council and £66,000 from Highlands and Islands Enterprise.
Helen Carmichael, provost of Inverness and co-chairwoman of Inverness City Arts Working Group, said concerns about the safety and maintenance of The Gathering Place were answered at meeting on the project held last Friday.
Her fellow chairman on the working group, Thomas Prag, said: "There is a general feeling that this location will be much better setting for The Gathering Place, providing a more appropriate context and an extension of the contemporary art at the Eden Court site.
"It will undoubtedly be a unique tourist attraction which Inverness very much needs."
Highland Council said "all the necessary safety and maintenance aspects" of The Gathering Place, including a protective barrier, would be included in the final detailed technical designs.
The Gathering Place has had its up and downs.
Earlier this year, Highland councillor Ken Gowans quit as chairman of Inverness City Arts Working Group saying he did not believe The Gathering Place to be a viable concept.
About 200 people have opposed it in a public consultation.
However, there is a petition supporting the project.