Government confirms fresh consultation on Small Isles MPA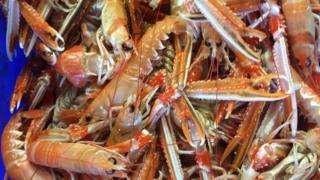 Further consultation on how the Small Isles Marine Protected Area (MPA) should be managed will start in August, the Scottish government has said.
In February, the government agreed to delay an order introducing the area following representations from Mallaig and North West Fishermen's Association.
MPAs involve restrictions on some fishing.
The Small Isles MPA covers an area of more than 308 sq miles (800 sq km), including the Sound of Canna.
Fragile habitats in the area include the UK's only colony of rare fan mussels.
The government agreed to hold off introducing the Small Isles MPA to allow for more dialogue on how it should be managed.
Environment Secretary Roseanna Cunningham confirmed to Kate Forbes, MSP for Skye, Lochaber and Badenoch, that eight weeks of fresh consultation will begin in August.
Ms Forbes said: "I want Scotland's fishing industry to flourish, because this will create more jobs and in turn boost the local economy.
"I can assure fishermen in my constituency that I will work hard to represent all views and ensure they are listened to - the last thing I want is for the MPAs to have a detrimental impact upon livelihoods."
Boost species
The MSP added: "I am particularly pleased that the Scottish government is prepared to listen to the concerns of fishermen, and I hope all parties will work towards a resolution that will protect one of Scotland's most diverse seabed habitats as well as livelihoods in our fishing communities."
The introduction of MPAs off Scotland's coast has been controversial. Different sectors of Scotland's fishing industry oppose or support the protected areas.
Some in the industry say the restrictions will harm the livelihoods of fishermen and their communities, while others believe protected areas would boost the species they catch.
One covering the Firth of Clyde to the south of the Isle of Arran has been the focus of a row which saw fishermen hold a protest outside the Scottish Parliament in January.