New site considered for Inverness Justice Centre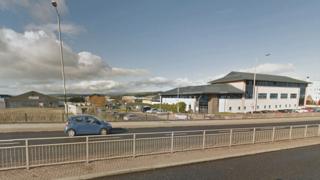 A potential site is being considered for a new justice centre in Inverness after plans to develop another location were dropped.
In May, the Scottish Courts and Tribunals Service (SCTS) withdrew a conditional offer to purchase vacant land at the city's Burnett Road.
It has now informed Highland Council of its interest in a former bus depot, also on Burnett Road.
SCTS said it remained committed to building a justice centre.
The new centre would allow the courts service to move out of Inverness Castle, which would then be available for plans to turn it into a tourist attraction.
'Right site'
A spokesperson for SCTS said: "The SCTS has submitted a pre-planning major development enquiry for a site at the former bus depot to obtain the views of Highland Council in principal to the suitability of this site as a potential site for the Inverness Justice Centre.
"This is part of a due diligence process being undertaken by the SCTS prior to making any decision on the justice centre location.
"We are committed to the delivery of a new justice centre in Inverness and the scoping work, centre design and engagement with partners continues while we seek to secure the right site."
In an announcement earlier this year, SCTS, the Scottish government and Highland Council said plans for the justice centre and also transforming Inverness Castle were being pushed forward.
At the time it was hoped that work on constructing the centre on the site near Burnett Road Police Station would start this year.