Free-roaming boar damaging fields in Highlands, says NFU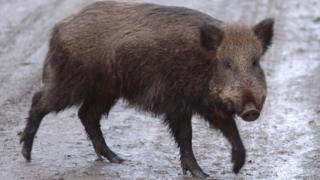 Wild boar roaming free in parts of the Scottish Highlands are causing damage to farmers' and crofters' fields, the National Farmers Union has said.
Up to 1,000 of the animals are thought to be loose in the region after being released illegally over a number of years.
Some of the largest numbers are in Lochaber and the Great Glen.
Andrew Burr, deputy director of policy at NFU Scotland, said boars caused damage while rooting in earth for food.
He told BBC Radio Scotland: "The Great Glen, around Invergarry in particular, has been affected.
"Whilst that area does not have much cropping there is livestock and people earning a living off land.
"The animals root around looking for food and fields can be left looking as if they have been ploughed, or turned over."
He said a "sensible conclusion" to the issue was needed, adding that public body Scottish Natural Heritage (SNH) was seeking to tackle the problem.
In gardens
Alastair MacGugan, of SNH, said the agency was concluding a report to "better quantify" the number of boars and where they were, and what their likely impact was going to be now and into the future.
He said: "It's a complicated issue because some farmers may find them a nuisance if they cause agricultural damage, and they could also damage natural habitat by digging up bulbs or eating ground-nesting birds' eggs.
"On the positive side, boar have been used to clear bracken and to open up woodland to encourage regeneration.
"The Scottish government, SNH and other agencies are currently working together to assess the risks and benefits of having wild boar in the Scottish countryside and come up with a plan of what to do next, and get agreement on this plan."
Mr MacGuagan added: "There also are concerns that people might be releasing wild boar into the wild. This is illegal.
"Anyone keeping wild boar needs to apply to their local authority for a licence. So I would like to remind owners that enclosures should be secure as they could be penalised if boar escape."
Five years ago, feral wild boar were spotted searching for food in the gardens of homes in Invermoriston, near Loch Ness, in the Great Glen.
Residents said they had seen pigs on their properties and nearby roads.
In 2002, police were involved in efforts to catch a wild boar roaming between Newtonmore and Laggan. It was later shot by a local landowner.
Wild boar can be farmed under licence, but it is illegal to release them into the wild.