New monitoring of leaning Glenfinnan Monument installed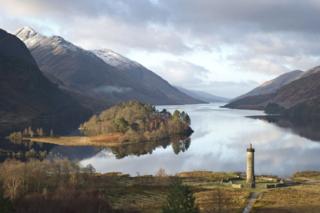 New equipment has been installed to monitor the angle of a leaning 200-year-old monument dedicated to the 1745 Jacobite Rising.
The Glenfinnan Monument at Loch Shiel in the Highlands currently leans 260mm (10in) to the west.
The National Trust for Scotland, which looks after the structure, said the equipment would help to check for any further movement.
The kit was put in place as part of a £170,000 revamp of the monument.
Elgin firm Masonry and Lime Ltd led the newly-completed repairs to masonry on the monument and a boundary wall, as well as the replacement of lime pointing and a renewal of the monument's roof.
A new hatch at the top of the monument and a new handrail to help visitors climb the landmark's 62 steps have also been installed, and the site's commemorative plaques cleaned.
The Glenfinnan Monument marks the beginning of the 1745 Rising.
On 19 August 1745, Bonnie Prince Charlie arrived at Glenfinnan where he rallied Highland Clans, raised his standard and began a campaign that aimed to secure the Scottish throne for the exiled Stuarts. The campaign ended in defeat at Culloden.
The monument was built in 1815 by Alexander MacDonald of Glenaladale to honour his ancestors and the fallen Jacobites.