Belladrum tribute to Boaty McBoatface viral phenomenon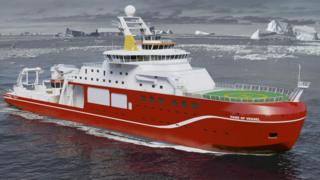 The name of a new stage at next week's Belladrum Tartan Heart music festival has been inspired by the Boaty McBoatface viral phenomenon.
Boaty McBoatface was the runaway favourite in a public online vote to name a new UK polar research ship.
However, after voting closed, it was decided the £200m vessel should be called RRS Sir David Attenborough.
The new stage at Bella, near Beauly, is one of two that involves ferry operator CalMac's Culture Music project.
The scheme offers new musicians the chance to busk on Caledonian MacBrayne ferries.
The name Boaty McBoatface, suggested by former BBC Radio Jersey presenter James Hand, went viral, crashing the Natural Environment Research Council (Nerc) website.
It had 124,109 votes. The second most popular choice, Poppy-Mai, had 34,371.
The public vote was not binding and the name eventually chosen for the ship recognised world-renowned naturalist and broadcaster Sir David, who marked his 90th birthday earlier this year.
A remotely-operated submarine launched from the vessel will, however, be named Boaty McBoatface.